Lip fillers are used all over the world to help enhance the smile, from augmenting the lips for a plumper appearance to adding shape and definition. Lip fillers can even be used around the smile to smooth away lines and wrinkles. But what about caring for your lips after treatment? Today, our aesthetic experts in Clapham will share some top tips for aftercare following your lip augmentation, so you know exactly what's involved.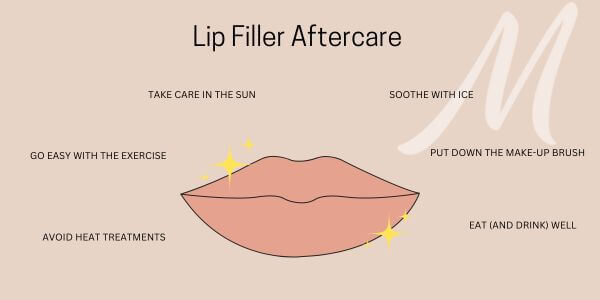 1. Go easy with the exercise
Whether you're a fitness fanatic or an occasional gym-goer, you must take a short break from any strenuous exercise. In the first couple of days, stick to gentle exercise like walking, as this prevents any swelling and bruising you may experience from worsening.
2. Avoid heat treatments
We all love to pamper at the spa or have a day in the sauna. But heated treatments like steam rooms could elevate swelling after your lip Injection treatment.
3. Put down the make-up brush
While experts don't always agree on make-up after lip fillers, we'd recommend waiting until at least 24 hours after having lip injections before applying lipstick or gloss. This can help to prevent infection from touching the treated area.
4. Eat (and drink) well
Getting all the hydration, vitamins and nutrients your body needs will help it recover after your lip augmentation. So be sure to drink plenty of water and eat a diet rich in fruits and vegetables.
5. Take care in the sun
Not only can the sun age the skin, causing wrinkles (which you may have just had treated through your lip injections), it can also affect your results. Stay in shady spots, cover up with sun cream and be sunwise.
6. Soothe with ice
One of the best remedies for any potential swelling you may experience from lip fillers is applying ice to the area – though take care to wrap it in a cloth when applying directly to the skin. You can also use an ice pack. Ice can work wonders for other potential side-effects, too – including itching and bruising.
7. Seek a professional opinion
If you develop any of the below symptoms, get in touch with our Clapham experts right away:
Lumps on the surface of the lips
Severe pain and white blotches on the skin
Painful swelling and bruising lasting longer than 7 days
Arrange a lip augmentation consultation today
Our team in Clapham would love to elevate your appearance – and your confidence – with our expertly-delivered lip injections. To arrange your treatment, book a consultation today.